In a year of stringent yet essential restrictions shooting Hollow, Paul Holbrook's winning pitch from 2019/20, has felt like an achievement to be proud of.
However, the significant achievement of shooting Covid-securely shouldn't overshadow another success of the Hollow shoot – working to secure Albert Accreditation for a carbon neutral production.
Albert is a tool designed by BAFTA aiming 'to help programme teams reduce the amount of CO2 produced during the making of their programmes.' One key element Albert offers is to be given a 'Sustainable Production Accreditation', which demonstrates, via branding in your credits, that a shoot has successfully implemented a Carbon Action Plan. This plan encourages producers to predict emissions and then plan to reduce them.
Considering how to grow Reel Issues Film's on-set sustainability started with the personal conviction of Luke and Jackie, RIF's producers. Green energy, solar panels and recycling are the domestic standards of many homes, but how to take those principles to a film set? Especially in short films where tight budgets and a timesaving mentality can make carbon offsetting feel beyond the realms of possibility.
Both Luke and Jackie had taken the Albert training and started to apply its principles, often specifically for features and series, on the sets of RIF productions. They decided to make 2020 the year to take their efforts to the next level – and aim for accreditation.
When Paul Holbrook secured The Pitch Film Fund's Production Award a pathway became a little clearer. His film, set in Bristol, made the possibility of local crew using sustainable travel a reality – a good start, especially when compared to RIF's previous film, shot on location in South Africa. Luke, like Paul, lives in Bristol, so the journey was down the road for him and others – saving on excessive fuel emissions.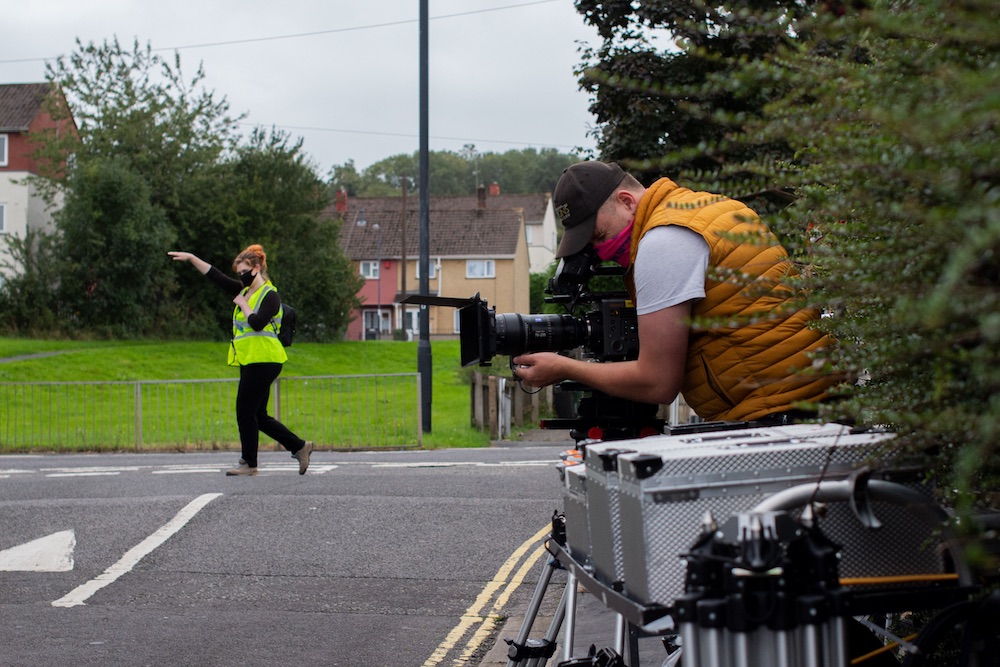 In addition to the benefit of a local production, with local talent and crew, other measures were taken to reduce the carbon footprint. One key challenge was tackling the issue of waste – actions taken included all communications going online to avoid unnecessary paper wastage, as well as ensuring crew members provided their own mugs to avoid piles of disposable paper cups.
The team thought creatively about other, more indirect, measures that could be taken. It was decided that the catering options would be limited to a Vegan menu. This eliminated any carbon associated with meat production – which proved delicious as well as more sustainable. 'This change had a significant carbon impact and tasted great!' said Luke.
Of course, this made for a slightly different experience for the crew. Gratifyingly, the prominence of the Albert Award meant that the crew were familiar with it, helping them feel like the goals of sustainability on the Hollow shoot were part of a wider movement in the industry.
Ultimately all this work resulted in a 15 per cent reduction of the carbon output on the producers' predictions. In real terms that meant over half a tonne of carbon was cut from Hollow's production, with the remainder being offset with a payment to Albert's Creative Offset Scheme. Hollow has submitted the results to Albert and RIF is delighted with the process to date. You can view the carbon footprint of the shoot on Albert's website.
Offsetting carbon can sound daunting but, with Albert's instructions and a bit of creativity, it is not beyond reach of short films.