The Light comes home to Manchester for Cornerhouse screening.
Saturday, 31 May 2014
Simon James Cookson, winner of The Pitch 2012, has brought his winning film, The Light, back to his hometown for a screening. The film was partly shot in Manchester and this weekend got it's first showing to an invited audience at The Cornerhouse in the city's Oxford Street.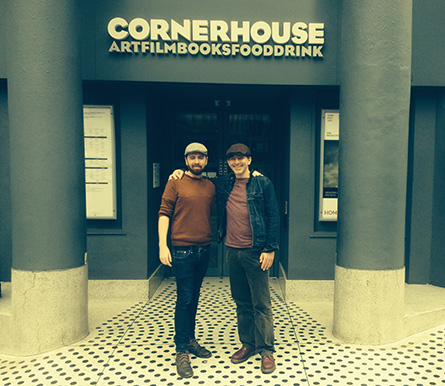 The Light is based on the conversion of Saul on the road to Damascus. It's set in America in the 1950s during the Red Scare era. The 'Saul' character in the story suddenly rejects his former oppressive ways, but realises the biggest struggle will be to convince everyone else he's truly a changed man.
Simon entered the competition as a writer, but ended up directing The Light, which is his first film. He faced the challenge of shooting a story set in 50's America at locations in the UK. He chose his hometown to shoot some of the scenes last summer. So Matt and Phreds jazz club in Manchester was turned into a 50's jazz venue and City Library Manchester featured as a police station.
"It's great to come full circle', said Simon. 'I was writing the pitch in my room back in Old Trafford a couple of years ago and to have it now screened here is nice, to compete the circle. It's nice to have a home coming.'
It's a wrap!
Wednesday, 19 June 2013
Simon our film director has shot his first film The Light. Choosing Northwest locations to replicate 1950s America you could be forgiven for thinking the cameras weren't across the pond!
The connections which Simon envisaged in his original pitch between a bible passage and the infamous McCarthy era have been executed. The parallels between Saul on his Damascene road experience and that of the Red Scare period are animated in this short film.
Behind the scenes at The Pitch film shoot
It's safe to say that The Light has become an integral part of Simon's life; after months of script development and character creation Simon's dream has certainly 'come to life'. Here are his thoughts.